Whether in the form of money, clothing, or time, we ask that you join our cause and donate. More than 47,600 children, or 33.5% of school age children in Fairfield County, Connecticut are eligible to receive free or reduced-price school lunches (Source: Kids Count Data Center). Each child is also eligible to shop at Clothes To Kids.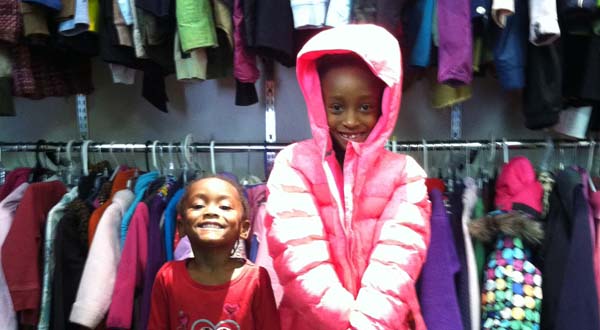 Individual Support
$50 will provide one child with a full week's worth of school clothes. Funding from private support is vital to the success of the program. Please consider a monetary donation in any amount.
To donate by mail, please send a check to:
Clothes To Kids of Fairfield County
Yerwood Center-Boys & Girls Club
90 Fairfield Avenue
Stamford CT 06902
Please make checks payable to:  Clothes To Kids of Fairfield County, Inc.
Donate Clothing and Shoes
CTKF gladly accepts quality new and used clothing and shoes that would be appropriate for kids grades K-12 to wear to school. Please ensure that items are clean and in good condition. Take a look at our complete list of accepted items.
For more information, please contact our Clothing Donation Coordinator
Hold a Clothing Drive
Clothing drives are some of the best, and most fun, ways to collect clothing. Shoes and new underwear & socks are always the greatest need, so consider sponsoring a Sole Train Shoe Drive or a Undie 500 at your school, club or business!
Get started with some ideas on how to hold a clothing drive.
Donate Your Time
CTKF needs your time and enthusiasm! Visit our Volunteer page for more information on how you can help.
Honor and Memorial Gifts
Give a gift in memory of a loved one or in honor of a birthday, anniversary, or special occasion. Each gift is acknowledged through a personal letter.
Planned Gifts & Bequests
A planned gift to Clothes To Kids of Fairfield County ensures the continuation of our program and creates your own legacy of support.
Contributions made to Clothes To Kids of Fairfield County are tax deductible.