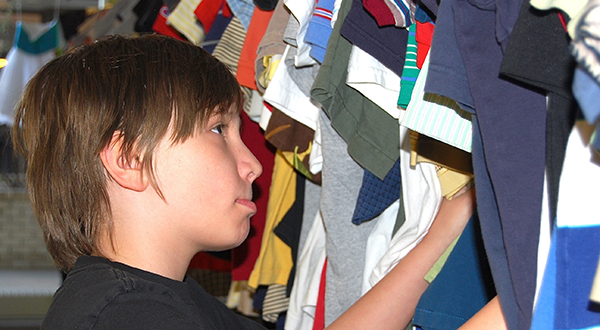 Clothes To Kids of Fairfield County is a year-round program. Clients may shop twice in a 12-month period at the CTKF Store.
We stock a wide variety of clean, stylish, top quality clothing–arranged by size and type–so shoppers can browse to select what they like best. Dressing rooms are provided to ensure a comfortable fit.  The atmosphere is bright, cheerful and inviting to create a positive experience for our shoppers.
In order to shop at the
Clothes To Kids of Fairfield County

store, the family must follow these four steps:
Get a referral

Families that receive free or reduced-price lunch through Fairfield County Schools, may use their official notification letter (for the current school year) as a letter of referral.
Families may also get a letter of referral from an approved community advocate. **The letter must be an original document, printed on letterhead.
See our Who Qualifies? page for more information.

Make an appointment

Clients shop by appointment only.
Parents or guardians should contact our Appointment Coordinator

Include the family name and phone number in your message.

If necessary, the agency or person making a referral may set an appointment on behalf of the family.

Bring a valid referral letter to every appointment

If necessary, a referral may be emailed directly to CTKF on behalf of a family. The email should include a note with the day and time of the family's appointment to shop. Do not send a referral for a family that has not yet made an appointment.

Present photo identification (parent or guardian)
See Who Qualifies? for eligibility guidelines and how to get a referral.
Shopping at the store
Each eligible child may shop twice in a 12-month period for a full week's worth of school clothes. This includes 5 tops, 4 bottoms (pants, shorts or skirts), 1 dress (optional), 1 jacket, 1 pair of shoes and 5 new pairs of underwear and socks. We call this the CTK Wardrobe. Extra items, such as pajamas, gloves, hats and toys may also be available. Wardrobe items may not be substituted.
Clients shop by appointment only. Volunteer personal shoppers will work with families to help them find complete wardrobes for each child. Families are welcome to shop with or without the children.
Check out our Shopping FAQs for more info.