Do you know a family in Fairfield County in financial need of assistance? Or a child who needs help with clothing for school? Please read on to learn more about how they can receive two free wardrobes per year from Clothes To Kids of Fairfield County!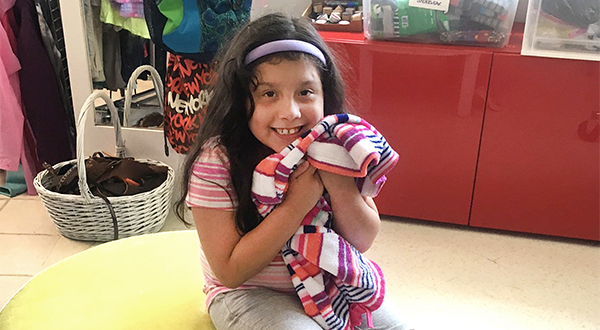 Eligibility Criteria
Families must meet the following criteria to shop at Clothes To Kids of Fairfield County:
The family must live in Fairfield County, Connecticut.
The children must be enrolled in a Fairfield County school, in grades K-12 or working toward earning their General Equivalency Degree (GED). **We do not serve children who are not yet in kindergarten -or- who are younger than 4-years-old, even if they are attending daycare or Headstart.
The family must be considered in financial need of assistance, such as:

Receiving free or reduced lunch at school.
Receiving services from a social service agency, school or counseling center.
In crisis due to natural disaster, poverty, homelessness or displacement.
Get a Referral
In addition to meeting the eligibility criteria, the family must have one of the following documents as a referral to shop at the Clothes To Kids store:
An official notification letter showing eligibility for free and reduced price lunch through Fairfield County Schools (for the current school year)
…or…
A letter of referral from an approved community advocate, such as:

A social worker or case manager employed at a local social service agency.
A teacher, administrator, guidance counselor or social worker at a school.
A pediatrician or family doctor.
A leader from a place of worship.
Letter of Referral
If you would like to refer a family, please use our Referral Form (fillable pdf, Word document) to provide a letter of referral:
To be valid, the referral must be:

printed on letterhead of the referring agency or community advocate
filled out completely
signed and dated **Letters of referral expire two months from the date of referral
In addition, please be aware of the following:
We ask that you refer only those families that you know firsthand, and who you know to be eligible per the eligibility criteria listed above.
Please include all of the requested information on the referral form, and all of the children that are eligible:

Children who are not yet in kindergarten -or- who are younger than 4 years old are not eligible to shop at CKTF, and should not be included on the form.

Provide the parent or guardian with the 

original

 letter of referral (printed on agency letterhead).

They must bring the original referral to 

every

 appointment with CTKF.

The referring agency must also fax or email a copy of the referral form to CTKF. See Contact Us for those numbers.
Notify the parent or guardian that they may be asked to provide proof of enrollment in Fairfield County Schools upon arrival at the store.
All referrals are subject to verification.
Does your family qualify? If so, it's time to make an appointment to shop! Learn more about how the program works.