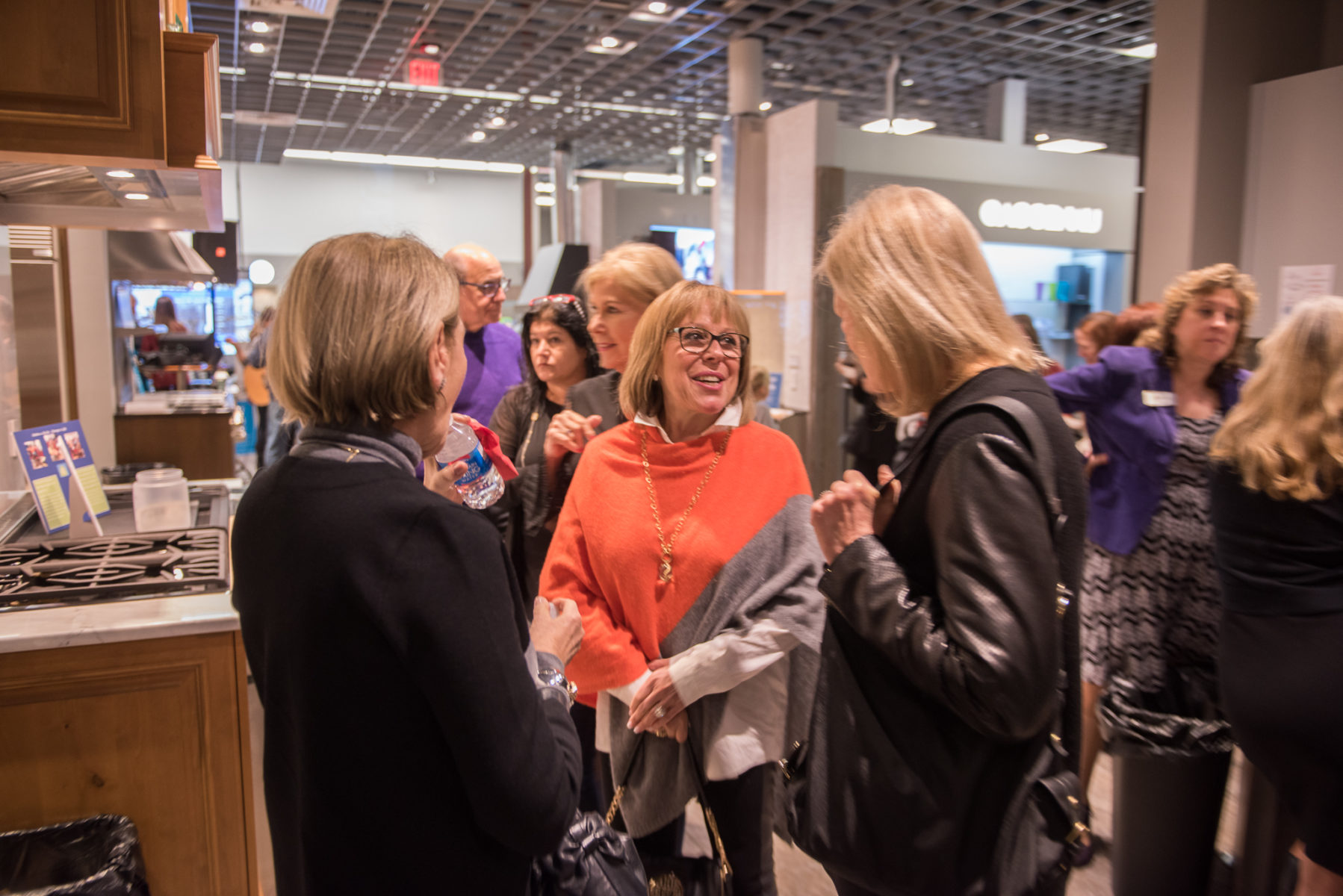 On November 9th Clothes To Kids of Fairfield County raised $28,000 at the 2nd Annual Cook for Kids Fundraiser, exceeding last year's fundraising efforts by $8,000. Thanks to the amazing support of our financial and in-kind sponsors, event hosts, and everyone who volunteered and attended, Clothes To Kids of Fairfield County (CTKF) will continue its efforts to "clothe a child and change a life".
Friends and supporters gathered for an entertaining evening as local chefs prepared a tasting feast at Aitoro Appliances in Norwalk CT.  While enjoying the delicious food, guests bid on a selection of silent auction items and tried their luck at winning a variety of door prizes. All proceeds will benefit CTKF's mission to provide in-crisis and low-income school-age children in Fairfield County with two free wardrobes of school clothing a year, so they can attend school with the confidence and self-esteem needed to achieve academic success.
CTKF executive director, Elaine Rubinson, spoke about how Clothes To Kids captured her heart when she attended their March 2015 fundraiser in St. Petersburg, Florida. She was motivated by their mission statement and intrigued by the creativity used to implement their mission. How wonderful that children shop with dignity at a scheduled time, and not feel as if they were receiving charity! With the help of dedicated volunteers, Elaine started a new CTK affiliate and Clothes To Kids of Fairfield County was incorporated in November 2015.
Sarah Arnold, a social worker and school-family resource facilitator at Roxbury Elementary School, spoke about the impact that Clothes To Kids has had on the families she has referred to the program. "CTKF is a lifesaver because it provides children with beautiful clothes that give them dignity and a sense of well-being. That's often the first step to helping families with many other challenges. Plus, it's a cheerful and fun place to shop. Everyone who goes loves it!". She also spoke about how poverty can affect families in many ways and that Clothes To Kids of Fairfield County provides these families with a much needed resource.  The effect that clothing has on these children is wonderful to see.
Of course, Cook for Kids would not have been possible without the generous financial support of Wells Fargo Advisors, and the effort and time of all the event hosts and in-kind sponsors for the event! And we are so grateful to Aitoro Appliances for opening the doors to their wonderful showroom to raise much-needed funds in support of local children in crisis. Aitoro is a family-owned appliance and electronics store based in Norwalk, CT that has been serving local customers since 1948.
Silent auction highlights included a weekend donated by Steve Berni at his vacation home at Stratton Mountain in Vermont, a custom men's blazer donated by Stephen Kempson London, a cocktail party for 20 people donated by Susan Kane Catering, and several other items.
Chefs and restaurants participating this year included Newbrook Kitchen, Bar Sugo, Susan Kane Catering, Solé Ristorante, Blind Rhino, HAPA Food Truck, A Dash of Salt Catering, The Mumbai Times, RomaNacci Pizza Bar, Osteria Romana, and Fire & Rice. Other event hosts included Kazu Sushi, DiMare Pastry Shop, Donut Crazy, Giovana's Wine & Spirits, Two Roads Brewing Co., Lagunitas Brewing Company, Samuel Adams, and Stella Artois.
The mission of Clothes To Kids of Fairfield County is to provide new and quality used clothing to low-income or in-crisis school age children in Fairfield County, Connecticut—free of charge. Without proper clothing, a child can suffer emotionally, physically, and academically. We are committed to ensuring that kids (grades K-12) have quality clothing so they can attend school with the confidence and self-esteem needed to achieve academic success. What makes the Clothes To Kids experience unique is that they get to choose their own clothing at the CTKF Store! Every eligible child shops for two free wardrobes a year—one for warm weather, and one for cool. Each wardrobe is a full week's worth of clothing, including new underwear and socks.
Learn more about complete program details or call (203) 533-9846 for more information.
Please consider making a donation, no amount is too small.