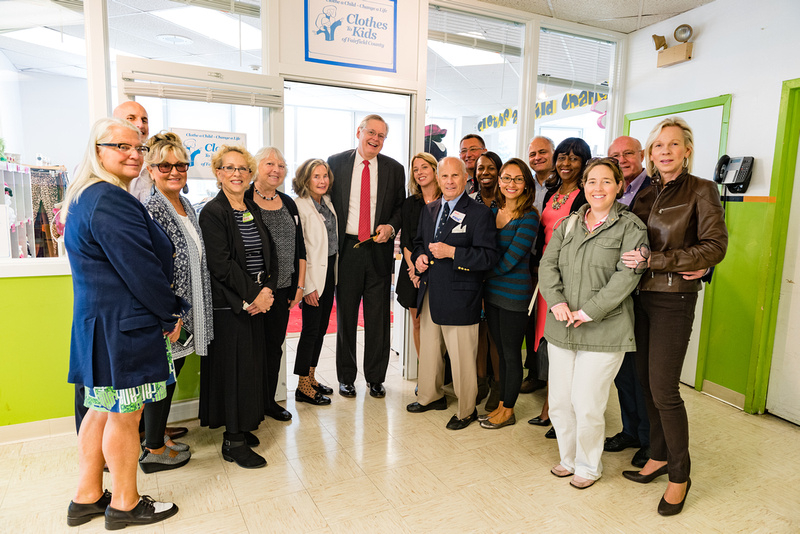 The Clothes To Kids of Fairfield County (CTKF) store opened its doors to the public for a three-day open house event, September 28-30. Guest of honor Stamford Mayor David Martin led the ribbon cutting ceremony as Executive Director Elaine Rubinson proudly looked on. The CTKF team worked tirelessly over the prior four months to reach this highly anticipated moment, and were thrilled to welcome professionals from public schools, social service agencies, nonprofit organizations, and local companies to the open house.
The work that has gone into building, organizing, and maintaining the CTKF store is a collaborative effort from the organization's enthusiastic founders, board members, and volunteers, all of whom are dedicated to its mission: to provide new or gently used clothing to children in critical need in grades K-12 in Fairfield County communities, all free of charge.
This summer the team was hard at work securing donations, spreading awareness throughout the community, establishing operational and fundraising plans, and renovating the store in order to create a larger, more functional space. Upon stepping foot inside the newly finished and fully stocked CTKF Store, located in Stamford's Yerwood Center-Boys & Girls Club, shoppers are greeted with a warm, bright, and welcoming atmosphere. Tidy racks and cubbies are filled with clean, quality clothing. Fun, colorful signage and an easy-to-navigate layout for both youth and young adult clothing, are clear indicators that this space has been well-prepared for shoppers. The "back room" serves as a work space where incoming donations from retail stores, individual donors, and community drives can be washed, sorted, hung up on hangers, placed in bins, or folded.
Elaine Rubinson brings her social service background and expertise to CTKF. She possesses an awareness and understanding that there are circumstances in which it may be financially challenging for parents/guardians to provide new clothing for their children, and is committed to giving families access to well-fitting clothing, free of charge. Over 33% of school age children living in Fairfield County are eligible to shop in the store, which indicates that many families in these communities can benefit from CTKF's services.
Families and children seeking clothing will find friendly, upbeat and knowledgeable volunteers ready to assist them with their overall shopping experience. CTKF volunteers include high school teens, college students, church and bible study groups, individual community members, local professionals, and those who are passionate about making a difference in the lives of youth.
We are always looking for new volunteers! If you are interested in volunteering your time to collect or sort items, host a drive, provide operational support, be a personal shopper, or donate gently used/new clothing, please contact Elaine Rubinson at (203) 533-9846 or info@clothestokidsfairfieldcounty.org.
Please consider joining us as we continue in our efforts to clothe a child, change a life!